Ammonia Air Cooled Compressor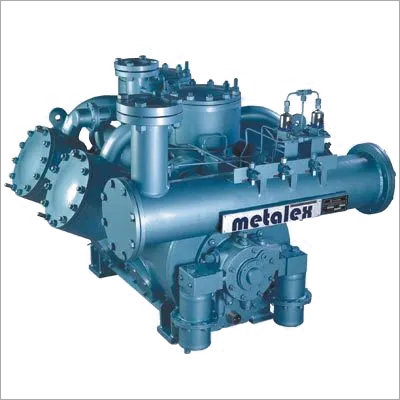 Ammonia Air Cooled Compressor
Price And Quantity
157000.00 - 125000.00 INR
Product Description
Ammonia Air Cooled Compressor
The IS series is a design contributing to a large field of operation and lower installation cost, without the need for additional water cooling circuits. All designed to work efficiently in almost any type of industrial refrigeration installation for cooling or freezing applications.
Steel welded compressor crankcase.
No water cooling required.
Swept Volume from 136 cubic meters per hour to 1700 cubic meter per hour at 1000 rpm.
Suitable for various refrigerants like Ammonia R-717, R-22, R-134a and other ozone friendly refrigerants.
Modular Design.
Easily availability of Spare Parts.
Fully Open & Serviceable at Site.
Power Saver due to Capacity Control.
Capacity Chart 1 to 6 Cylinders:
Compressor Model

Refrigerant Evaporating Temp. in C

NH3
Condensing Temperature

R-22
Condensing Temperature

35 C

40 C

35 C

40 C

Capacity
kW

Power
kW

Capacity
kW

Power
kW

Capacity
kW

Power
kW

Capacity
kW

Power
kW

IS-200

5

283.6

46.3

271.86

51.8

250.58

51

237.56

55.3

0

230.81

45.1

220.81

49.8

208.6

48.7

197.09

52.7

-5

186.4

43.1

177.33

47

171

46.3

161.3

49.8

-10

147.67

40.4

139.42

43.3

139.77

43.6

130.81

46.6

-15

114.53

36.8

105.1

38.6

111.98

40.6

104.19

43

IS-300

5

424.53

68.5

407.79

76.7

375.93

75.5

356.28

82

0

346.28

66.6

331.28

73.8

312.91

72.1

295.58

78

-5

279.53

63.7

265.93

69.6

257.56

68.4

242.44

73.7

-10

221.51

59.6

209.19

63.9

209.65

64.4

196.28

69

-15

171.74

54.2

158.5

54.7

168.02

59.9

156.4

63.5

IS-400

5

566.05

90.6

543.72

101.6

501.28

100

475.12

108.6

0

461.74

88.2

441.74

97.7

417.21

95.5

394.19

103.4

-5

372.79

84.3

354.65

92.1

343.49

90.6

323.26

97.7

-10

295.35

78.8

278.84

84.6

279.53

85.2

261.74

91.3

-15

229.07

71.5

210.7

75

224.07

79.2

208.49

84

IS-600

5

849.07

134.8

815.7

151.3

751.98

148.9

712.67

161.8

0

692.67

131.1

662.67

145.4

625.81

142.1

591.28

154

-5

559.19

125.3

531.98

137

515.23

134.8

485

145.4

-10

443.02

117.1

418.37

125.8

419.3

126.7

392.67

135.8

-15

343.6

106.2

316.6

111.5

336.16

117.7

312.79

124.9
Engineering Data:
Type of Compressor




IS-2

IS-3

IS-4

IS-6

Cylinder Arrangement




V

W

2 x V

2 x W

Number of Cylinders




2










Cylinder Bore

mm

6.29 (160)

Piston Stroke

mm

4.3 (110)

Permissible Speed RPM

V Belt Drive

Swept Volume of Suction Gas
at 1000 RPM cu.ft/min (Cu.m/hr)

m3 /hr

265.9

398.5

531.1

796.5

Direction of Rotation /
Looking from Oil Pump Side

Clockwise

Maximum Discharge pressure

bar

295 (21)
Capacity : Refrigeration Effect (Cooling Capacity) in KW/hr
Power : Power required at compressor shaft in kW
Capacity is at 1000 rpm
Power consumption and capacities are proportional to speed 0
Capacity is at 50C useful superheat for R-220
Capacity is at 50C non useful superheat gained in suction line for NH3
Interpolation of ratings is permissible
For any condition outside the range given above please call